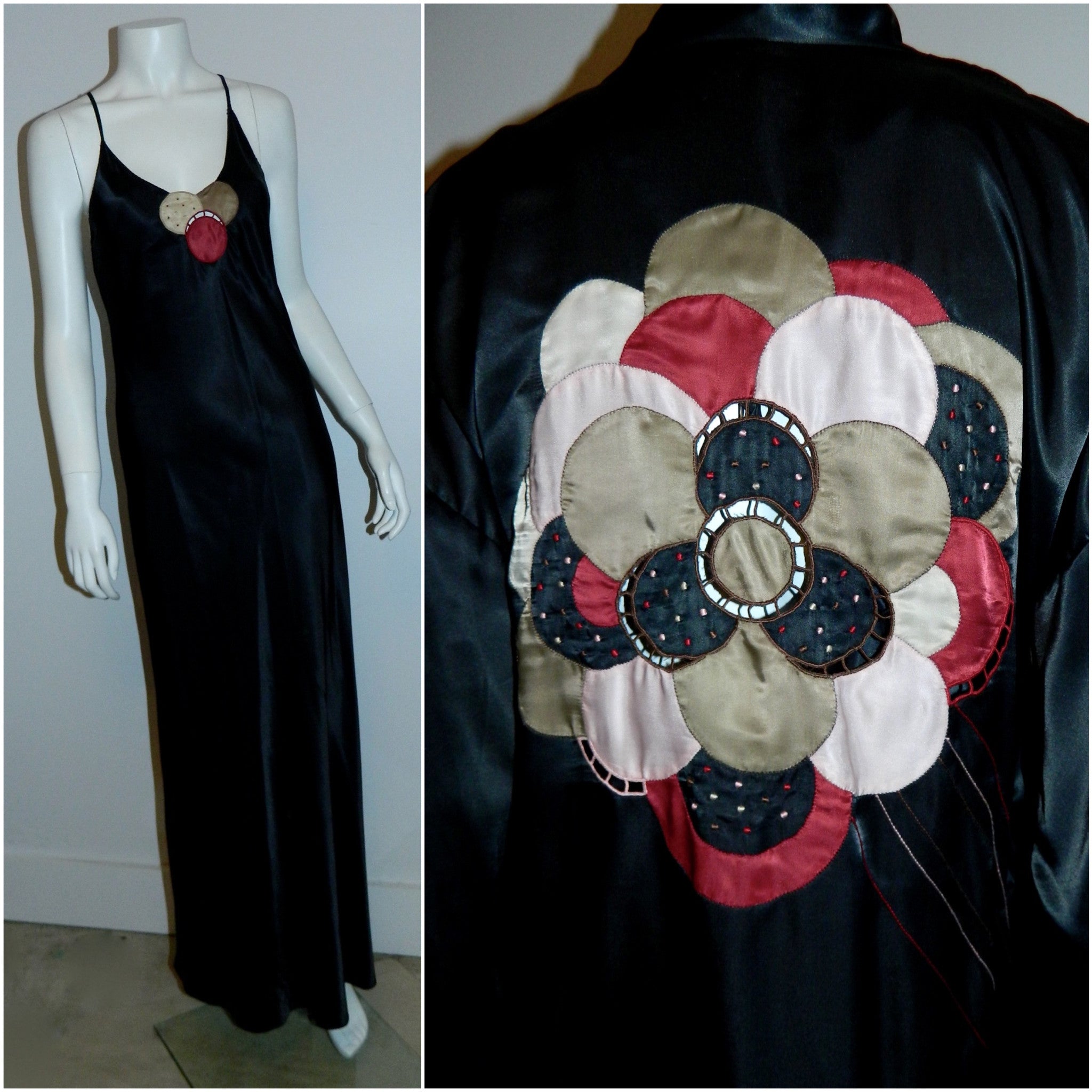 black satin Ora Feder nightgown robe peignoir set / hand embroidery / 1970s vintage
Stunning black satin bias cut gown and matching robe by Israeli designer Ora Feder - a scarce designer known for pretty camisoles and underthings, who began her own label in 1975.
The gown is V- neck with three circle design, including embroidered dots and openwork at center chest. Straight across the back, narrow straps.Slightly bias cut A lined shape, full length. 
The matching robe is open front, with slightly dropped shoulder seams and bracelet length sleeves with kimono shaping, including open underseams. On seam slash pocket at the right upper hip. Belt loops are attached but matching sash is not included.
Large embroidered and pieced floral (or hot air ballon) design on the upper backing the same colors as the gown detail - putty, petal pink, brick red, cream. 
Size and content are not noted- please confirm measurements. The satin is supple and silky- it may be silk (which the designer did work in) of moderate quality, but my instinct says very high quality raton satin. Beautifully finished. 
Condition is very good overall. Missing sash noted. There are a few slight abrasions to the gown hem. Only one label for the set- in the robe.
A very pretty peignoir from an incredibly rare designer. Deco inspired, late 70s / early 80s issue. Beautiful!
Measurements:
the gown- 
35" chest &17.5" armpit to armpit)
39" hip allowance
62" hem circumference
59.5" overall length
the matching robe-
21" shoulder seam to shoulder seam (dropped shoulder line)
21.25" across the chest - 42.5" chest allowance
46" hip allowance
51.5" hem circumference
56" overall length
15" sleeves
And some additional info on the designer: https://news.google.com/newspapers?nid=1346&dat=19790903&id=nrAwAAAAIBAJ&sjid=D_sDAAAAIBAJ&pg=4922,1284545&hl=en