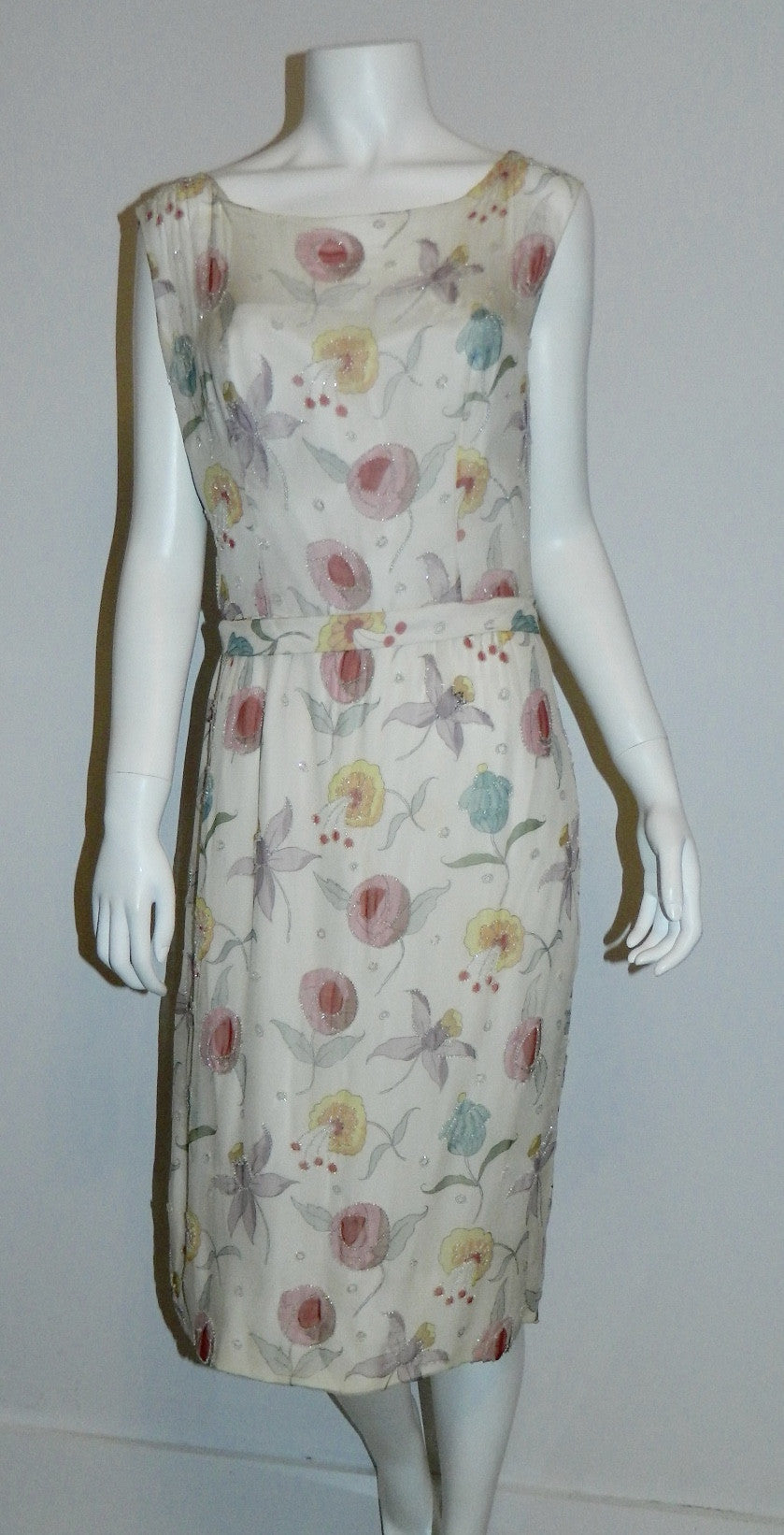 vintage 1950s silk chiffon beaded dress Jobere New York floral print wedding gown M
Couture quality Jobēre of New York ivory floral print silk chiffon cocktail dress with hand beading and back draped detail, circa late 1950s vintage.Sheer chiffon overlay with structured interior strapless dress in thick off white textured silk.Double layer bodice with interior structure and seaming. Floral chiffon overlay has a wide set boat front neckline, , dress has U- back with covered metal zip closure. Back drape triangular double layer chiffon attached scarf detail, as shown. Streamlined fit to the waistline; original belt attached, skirt is straight from the hips to the hem.
Many of the fine line floral designs (roses, orchids, daffodils, etc.) in pastel colors are beaded along some of the details- adding depth and interest. Most of the beads are clear silvery - some are a darker center- almost dark gray with clear outer. 
Condition is very very good to excellent- the silk chiffon outer has held up beautifully. Under exceedingly close inspection, there are some small areas of beading missing but given that the piece was never fully beaded, these are minor. Very slight straining and the lightest amount of discoloration to the chiffon at the underarms- which will be covered when worn. There is a small hole in the chiffon outer at the top left side of the zipper placket- this is covered by the shawl detail, but worth noting. Otherwise incredibly clean and fresh inside and out. Beautifully constructed with quite a bit of hand finishing. A really stellar dress for warm weather cocktail parties, semi formal events, even as a wedding dress!
Measurements:
19" across the front bustline, 29.5" waist (14.75" across), 40" hips (20" across), 40" hem circumference, 15.75" bodice length (from top of chiffon shoulder seam to waistline), 24.5" skirt length, 10.25" inner strapless bodice length, 29.5" back center length (from top of zipper to hem)