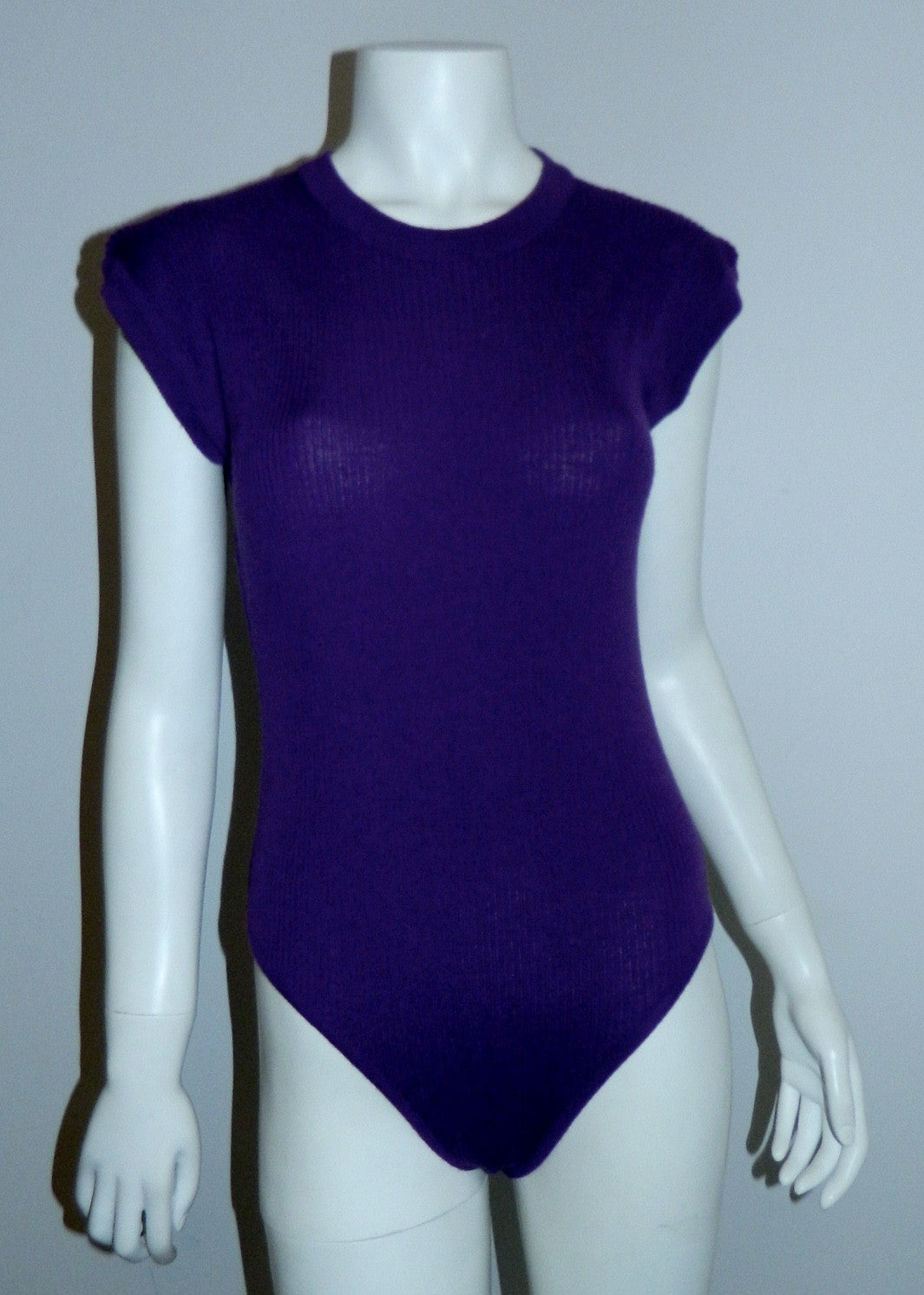 1980s bodysuit vintage Sonia Rykiel Inscription wool rib knit top sweater
Iconic and exceedingly rare Inscription Rykiel label wool ribbed bodysuit in vibrant royal purple, copyright dated 1989 Sonia Rykiel. Black wool "INSCRIPTION RYKIEL" patch with embroidered silver lettering at back neck. Cap style sleeves overhang the shoulders a bit. Finer gauge rib jewel neckline and armholes. Narrower version of the same ribbing along the high cut leg holes. Three metal snaps at crotch. Made in Italy, fine gauge and weave, quite soft. 
Condition is excellent to flawless- no signs of wear or use. Tagged size M, while there is a fair amount of give to the poorboy ribbing, likely best on a modern US Small to Medium. 
Measurements: 
for handy reference- the mannequin shown is 32.5" at the chest, 24" at the waist and 35" at the hips, unpinned.
unstretched, except as noted - 7.5" across each shoulder, 19.25" across the top back of the shoulder seam area, 28" to comfortable 40" chest as ribbing allows for a fair amount of give (14" armpit to armpit, with give to easy 20" across), 26" to 36" waist (13" across, with give to 18" across), 28" to 40" hips (14" to 20" across, as measured at the top of the leg holes), 28.5" overall length (from top of shoulder to bottom of snapped crotch)