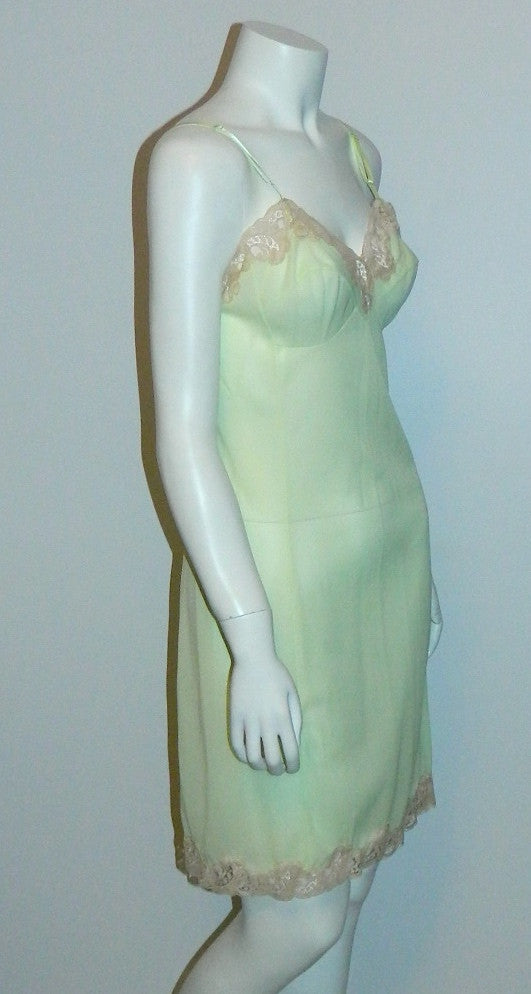 1960s vintage PUCCI slip lime green nightie 32 XS Emilio Pucci FR
Emilio Pucci for Formfit Rogers pale lime green nylon slip with cream lace trim, circa 1960s vintage.
Tagged size "32 average, 10 - 12", please confirm fit below.
Whipped nylon texture, fabric is a bit sheer.
V- neckline and straight back, with curvy lace overlay and edging, which repeats at the hem.
Lightly seamed bralette style support, adjustable satin straps.
Seamed panel construction through the body.
Falls above or at the knees, based on height.
Condition is excellent to flawless.
Ready to debut!
Measurements:
15.75" across the front bustline, with a bit more fabric in the cup area so 31.5"- 33" bust, approximately
14" across the under bustline
14" across the approximate waistline/ 28" waist
17.5" across the approximate hipline/ 35" hips
20" across the hem/ 40" hem circumference
37" length