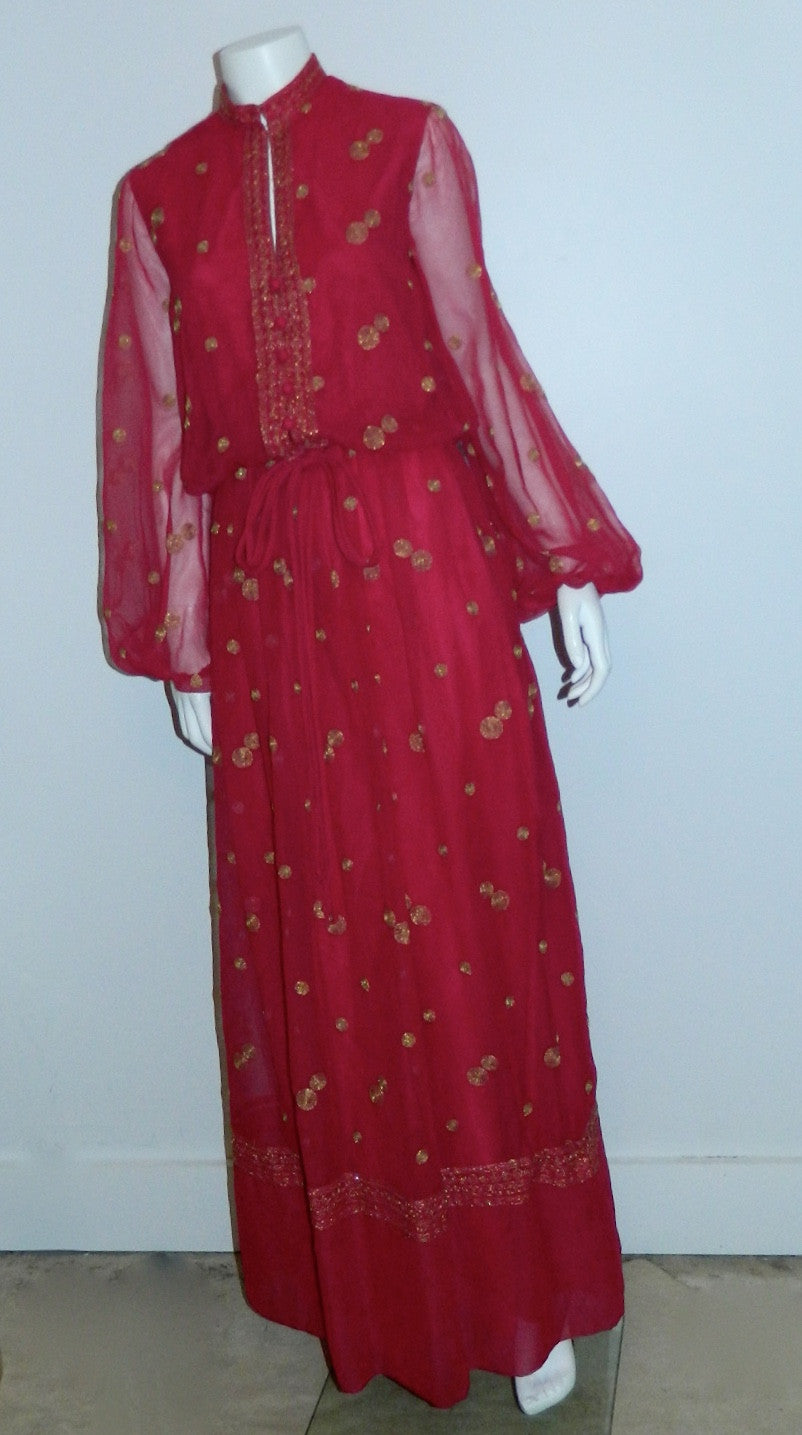 vintage 1970s Boho gown / magenta chiffon Jack Bryan maxi dress / gold embroidery XS - S
Stunning magenta gown by Jack Bryan, featuring gold embroidery and sheer overlay, circa very late 1960s to very early 1970s vintage.
Sleeveless rayon/ acetate blend base layer with zip front and back elasticized waist for comfort, full length with fuller skirt.
The outer is sheer chiffon with circular embroidery in metallic gold thread.
Nehru collar with slash front- two optional hook and thread eye closures at neck, as shown.
Five button front with corresponding loops, elastic hem with detail ties at front waist.
Collar, placket, and wider band at hem are rosette gold embroidery with boarder detailing.
Poet style sleeves with elastic at cuffs.
Condition is very good- there are some darker marks on the inner layer lower back skirt, which just barely show through the outer embroidered chiffon fabric, as well as a few marks on the outer skirt- very minor, but worth noting. Otherwise excellent- appears very seldom worn.
All details original and in tact- this Indian inspired, Boho luxe dress was "assembled in Mexico".
Ideal as a hostess gown, for beach weddings, summer soirees, etc.
Measurements:
15.25" shoulder seam to shoulder seam
36.5" chest (18.25" armpit to armpit along the inner layer)
24"- 32" waist (elastic)
40" hips (inner layer)
68" hem circumference (inner layer- outer layer is a bit fuller for the entire length of the skirt)
16.75" bodice length, 42.75" skirt length, 59.5" overall length
25.25" sleeves