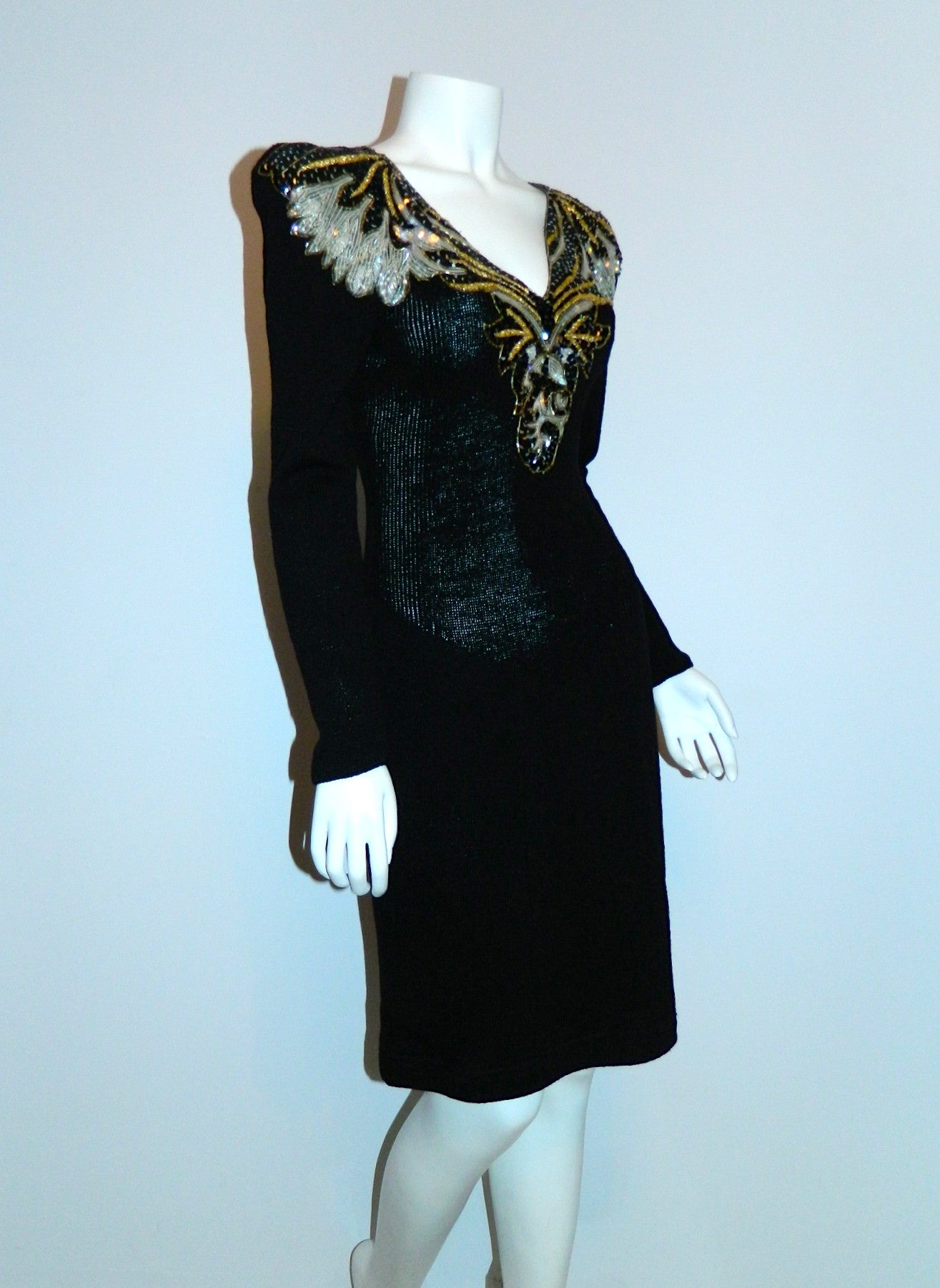 1980s GLAM black dress vintage Pat Sandler Wellmore sequin front knit dress
Black Santana knit dress with plunging neckline and sequin front by Pat Sandler for Wellmore, circa 1980s vintage. Classic rayon/ wool knit, the bodice and sleeves are ribbed, the skirt is flat weave. Ideal for New Years Eve!
Puffed shoulders with internal pleat detail for added pop, the floral sequin design runs along the front shoulders and chest in varying bead styles, as shown. 
Fitted though the lower waist/ upper hips, with drop yolks style waistline, skirt is gently A- lined from the hips to the hem. Zips up the back.
Condition is very good overall (and priced accordingly)- with the following issues to note:
-small repair on the outer left upper arm, very well done but worth noting
-hem does not appear to be original, dress was professionally shortened at some point
-a few loose stitches to the ending here and there, all appear to be in place- simply worth noting
Measurements:
Dress is tagged size 10 and shown on a US size 2 - 4 mannequin. There is some give the weave, but likely best on a US S- smallish M. If you're on the larger end of the provided measurements, the knit will accommodate but eventually effect length.
14"- 17" shoulder seam to shoulder seam (14" across, with some give as needed)
29"- 40" chest (14.5" across, with comfortable give to 20")
22"- 38" waist
36"- 45" hips
44" hem circumference
39.25" length
23.5" sleeves