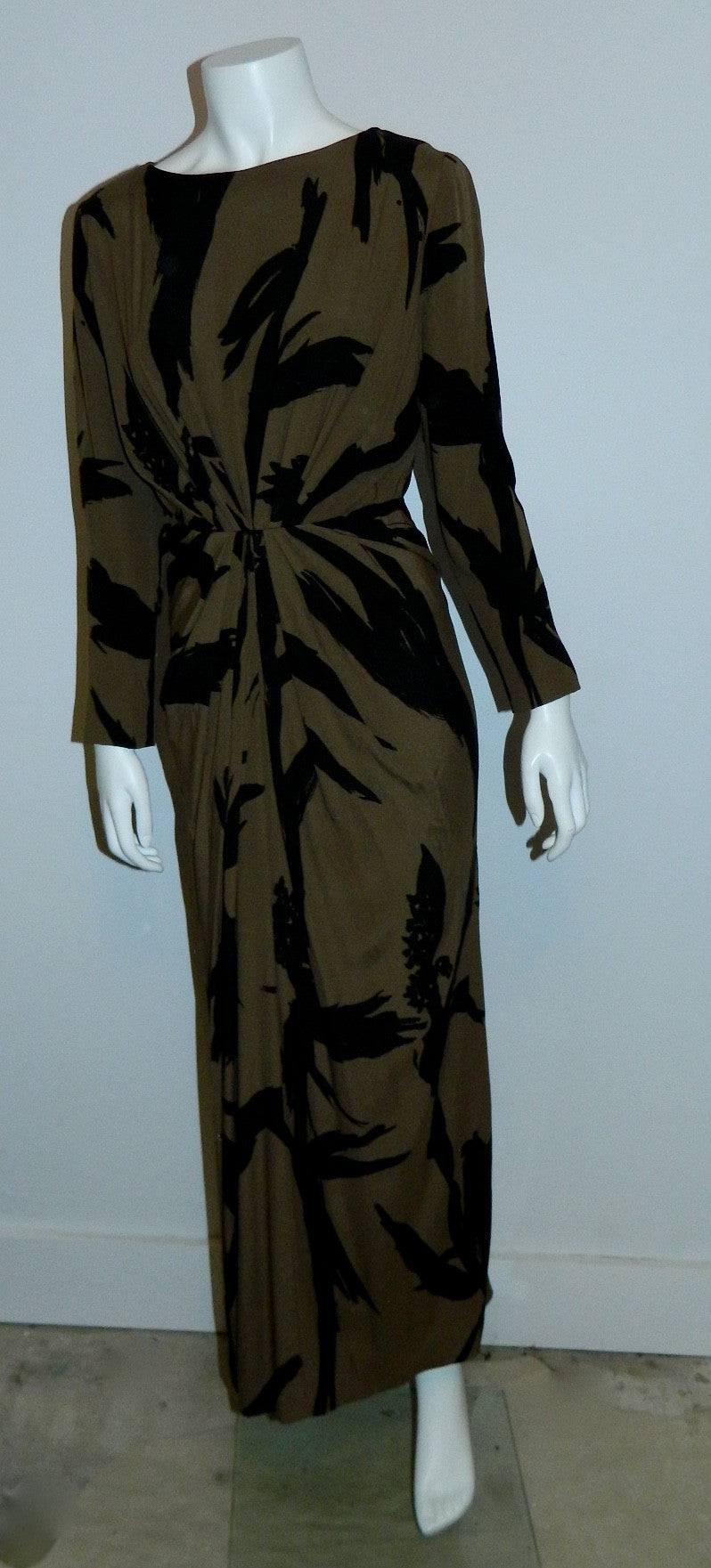 abstract print silk gown BUD KILPATRICK vintage 1960s dress XS
Cafe au lait silk twill dress with abstract black brushstroke print, from obscure couture designer, Bud Kilpatrick.
Masterfully gathered front waistline with pleated detailing.
Widest crew neckline, hidden "CC" metal zip up the back center, with black grosgrain ribbon interior waistband.
Fully faced/ lined in reverse seamed black silk crepe so that no seams hit the body; lining is hand sewn in place.
Set in sleeves are bracelet to full length.
Dress silhouette is streamlined but not snug, bodice drapes to the front gathered waist and back waistline, fullness through the hips with gentle A- lining to the hand- sewn fishtail hem.
Condition is very good or better- there are a few very slight pulls to the silk outer along the front bodice- they do not detract, but are worth noting.
Otherwise spotless inside and out- this gown is a scarce beauty!
Measurements:
15.5" shoulder seam to shoulder seam
approximately 35" chest (17.5" armpit to armpit, the front draping allows for a bit more room, but 36"- 37" max)
26.5" waistline
approximately 37" hips
15.75" bodice length
39.5" skirt length (from side waistline seam to hem)
52.5" front center overall length (from front top of shoulder to center hem), 54.5" back center overall length (from back top of shoulder to center hem)
21.25" sleeve length
"Bud Kilpatrick / Nan Duskin" label, as shown- Kilpatrick travelled to high end department stores, offering his designs to clients.
Kilpatrick worked for Hollywood costumers in the 1940s and later had his own line, earning the Neiman- Marcus fashion award in 1963.