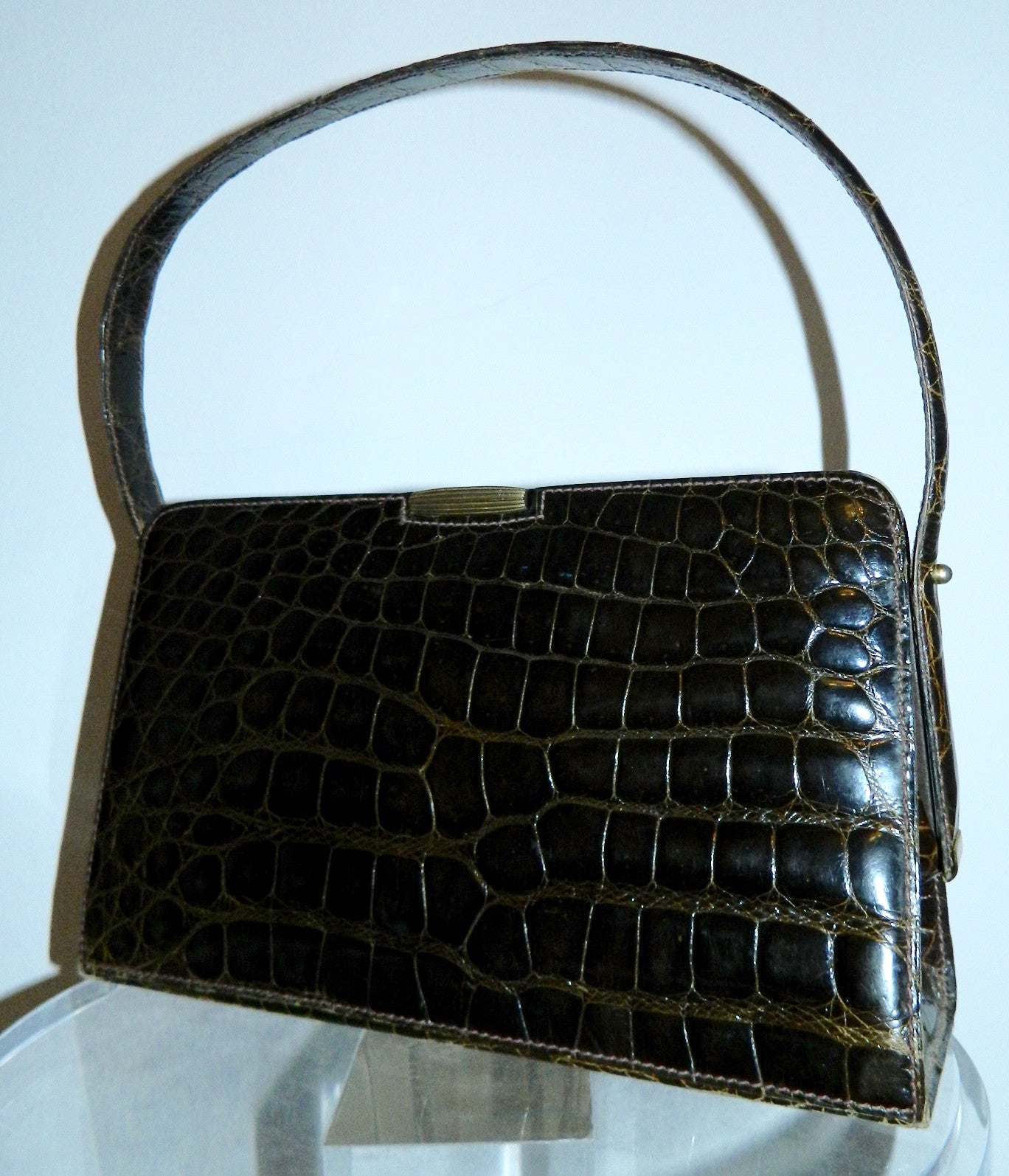 glossy brown crocodile handbag vintage 1940s Saks Fifth Avenue French made purse
Deep chocolate brown crocodile handbag with large, high gloss scales and curved top carry handle that comfortably fits over the shoulder- made in France for Saks Fifth Avenue, with their 1940s era logo gold embossed on the interior. Inset gold tone etched bar hinge clasp at top center, gold tone metal ball pin strap attachment hardware and brackets on the lower sides; four metal feet protect the bottom. Both the outer and inner curves of the strap are crocodile- a subtle but important mark of a quality bag. Puffy, lush scales with just visible sensory hair pores upon close inspection. All panels are solid pieces, the only seaming along the frame edges. 
Leather wrapped frame closure nests within the crocodile outer just as the clasp nests- not interrupting the line of the bag. Leather lined interior with interior pockets on the front and back walls, including a wallet style compartment with frame latch closure. Crisply gold embossed "Saks Fifth Avenue", "made in France" on the inner wall. 
Condition is very, very good to excellent. Some fading to the gold tone hardware gives it a slightly brassy hue. A little bit of surface wear along the bottom edges, with some very light surface abrasion to the bottom back row of scales- see photos. Scales are glossy and plump, really well matched. Presents beautifully- obviously vintage, but seldom used and wonderfully cared for. It was not uncommon for SFA to have high end companies produce bags for sale under their house label and I do not doubt this is an example of one of those partnerships. An incredible bag with generations of use ahead!
Measurements:
10- 5/8" across the top edge, 11- 1/8" across the bottom edge, 6- 3/4" high, 3- 1/4" deep at bottom. The handle is approximately 3/4" wide and 19- 1/2" long along the top curve, adding about 6- 1/4" height from the top center of the bag- comfortable on he shoulder of a small to medium frame.