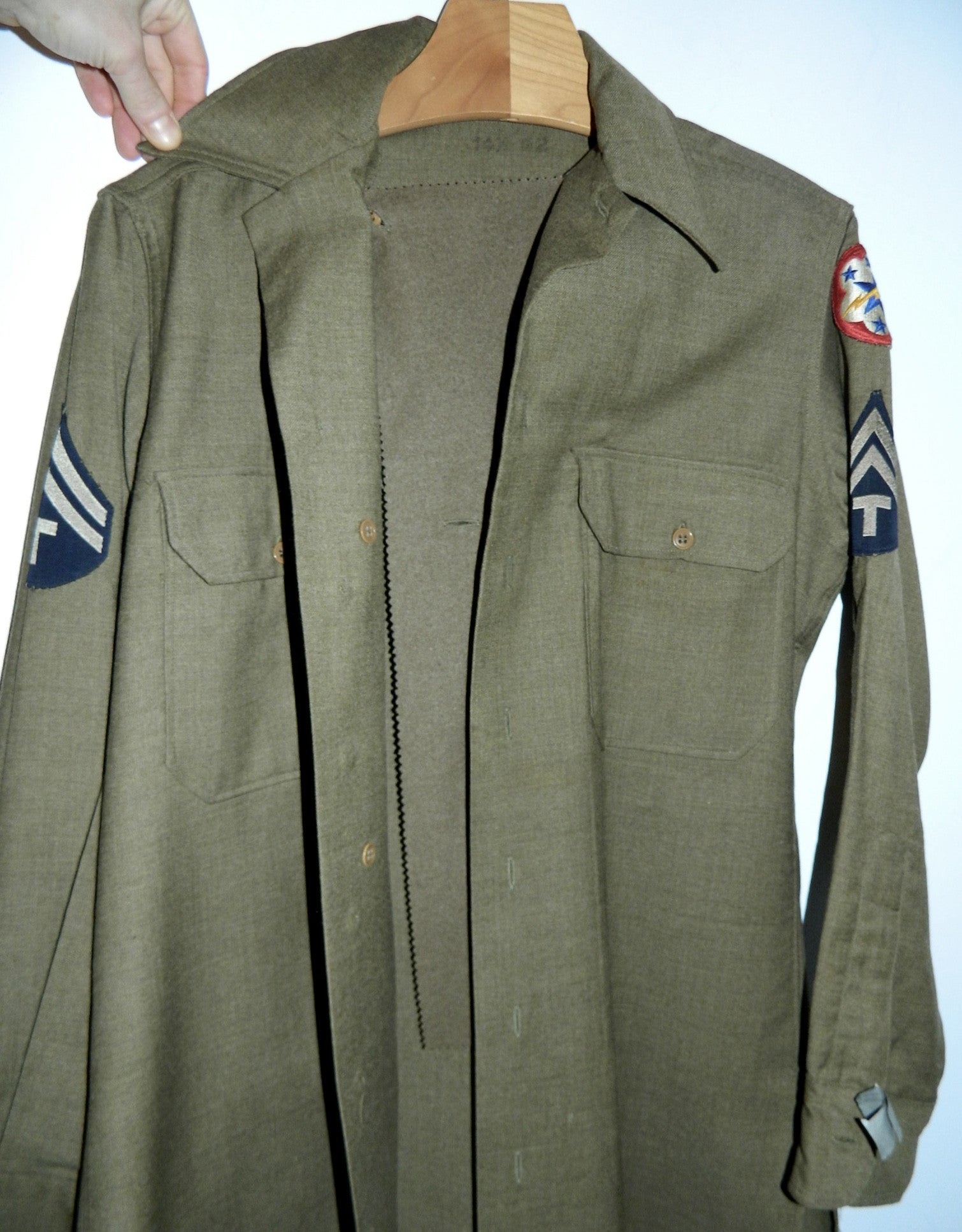 vintage 1940s US Army Coat Style OD flannel shirt T/5 Western Pacific Unit
Olive Drab wool "coat style OD flannel shirt", produced by Phillips- Jones Corp and dated May 2, 1942. Size 14 1/2 - 32. This has an unusual optional inner wool felt placket and cuffs for added warmth.
Point collar, button front, patch pockets with buttoned flap closures on chest. Shirttail hem. Single button cuffs. Wool weave.
Three sleeve patches, a US Forces Western Pacific Unit lightning bolt and stars insignia on the upper left shoulder- said t mimic the Souther Cross Constellation, a Technician 5th grade (corporal) enlisted ranks insignia with smooth weave on both upper arms. All patches are in very good shape and carefully hand sewn in place. Two buttons on the back underside of the collar- no corresponding pieces.
Tag on lower right side seam inside of shirttail hem clearly reads "Phillips- Jones Corp., Cont. W-669-qm-18350, Dated May 2 1942, Stock No. 55-S-5504-2, 14 1/2-32, Q. M. C. Tent. Spec., P. Q. D.  No. 96A, Dated 10/8/41, Phila. Q. M. Depot, _________ Inspector", with the inspector line mostly blank- looks like some numbers in pencil but too faint to make out.
Condition is very good or better- I see no holes when held to the light. No thin areas or worn spots- quite remarkable for a wool shirt in it's early 70s! There are some faint marks here and there, but very clean overall. Recently dry cleaned and ready to debut!
Measurements:
size is 14 1/2 - 32, as noted on the tags- shown on both a male and female mannequin as this is on the smaller side
15" neck circumference
17.5" shoulder seam to shoulder seam
44.5" chest (22.25" armpit to armpit)
41" waist circumference
32.5" overall length (from top of shoulder to hem)
23.5" sleeves