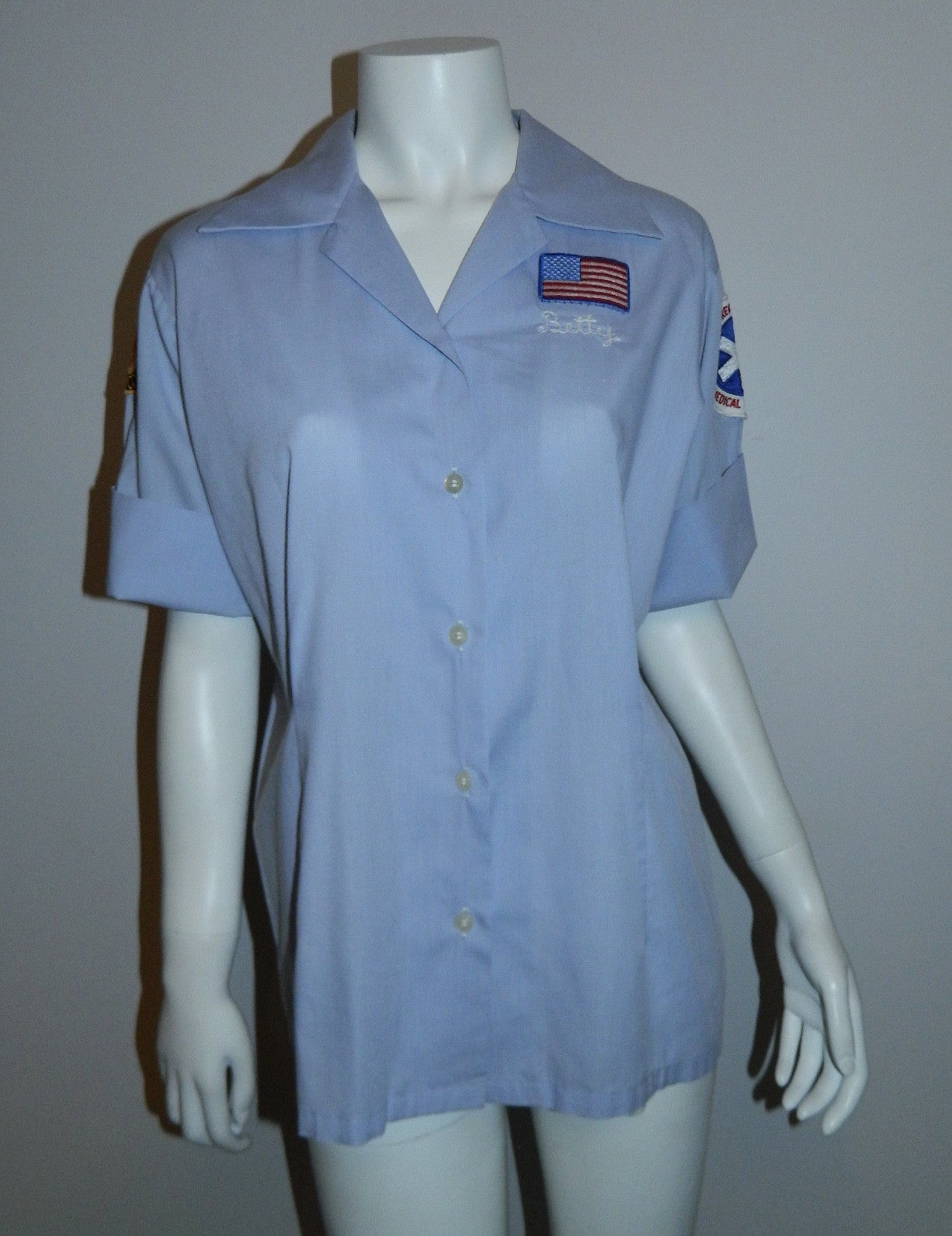 vintage 1960s EMT blouse Women's work shirt uniform Liberty Corner First Aid Squad NJ ELBECO
Baby blue poly/ cotton blend women's uniform shirt by Elbeco, circa late 1960s vintage.
Spread collar with notched lapels, short sleeves with cuffed detail, fit is slightly streamlined with darting, straight hem.
American flag patch with "Betty" embroidered in white lettering on the left chest.
"Registered Emergency Ambulance Medical Technician" patch on the left sleeve, "New Jersey State First Aid Council" patch on the right sleeve.
Large white "Liberty Corner First Aid Squad" lettering embroidered on the upper back.
Shirt is a lightweight blend of 65% dacron polyester, 35% cotton, crisp. The Elbeco label is also marked "post office regulation". Tagged size 16/38, please confirm measurements below.
Shirt is super clean. There is some light pulling/ puckering to the embroidery, especially across the back- from washings, and not uncommon, but worth noting. 
An awesome blouse!
Measurements:
17" shoulder seam to shoulder seam
42.5" chest (21.25" armpit to armpit
39" waist
41.5" hem circumference
26" overall length (from top of shoulder to hem)
12.25" sleeves with optional cuffs- shown at about 8.5" length
A bit about Betty: According to a nephew (who I procured this and many other pieces from), Betty was a nursing  student who volunteered abroad, working as an ambulance driver in Europe during WWII. After returning to the US and while raising a family- though she never quite finished her nursing degree- she was a long- time EMT and First Aid volunteer with the well- established Liberty Corner First Aid squad. Betty- and many other family members- contributed to the war effort and various armed services.